Valentine's Day is all about taking a moment to appreciate the people in our lives who matter to us. This time let these homemade Valentine's Day love bites be the sweetest way you say "I love you" to everyone special in your life.
Mini Hearts with huge impact: Make your favorite chocolates cake and cut out small hearts with your heart shaped cookie cutter. If you want add your favorite icing in-between two slices. Pour some chocolate sauce of your choice and voila! Lovely heart bites are ready. These lovely heart bites will be enjoyed by kids and adults alike.
Sweetheart Cookies: Make your favorite cookie dough. Instead of making them in your usual shape – cut it with heart shaped cookie cutters and bake.
It will probably taste much better for all the love that you have poured in.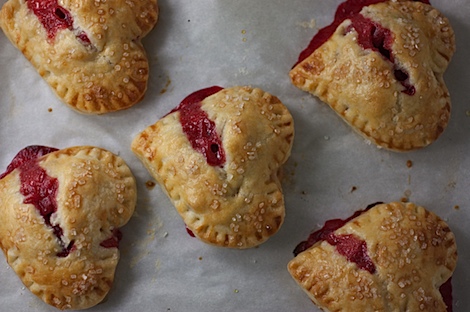 Love Sandwiches Anyone? Make your favorite tea sandwiches and cut them in heart shape cookie cutter. Serve it either for breakfast or tea time and spread some more love with your loved ones.
Don't have heart shape cookie cutter? No problem. We have more options.
Very Berry Heart! Cut the strawberry in half. Place them side by side and join them with a tooth pick. Either eat it as it is or dip them in chocolate sauce and let it cool down.  Serve it chill and warm the hearts of your loved ones.
Miniature Rose Cakes – Turn your favorite sponge cake and icing into this mini rose cakes. Cut small rounds. Place icing in between the slice and pipe out roses on top. Keep the colors sober to bring out their beauties. Try making these cakes for your hubby, kids, parents, boyfriend, friend, foes – whoever! They will LOVE you for it!
Now that we have given you some ideas try do something in your kitchen and win the hearts of your near and dear ones without any help from Cupid.
Enjoy the season of love!